Back • Return Home

Love Through Limitations (10/14/2022)

Last Halloween, I tried to write a poem using the wonderful little magnetic poetry applet made by Sadness: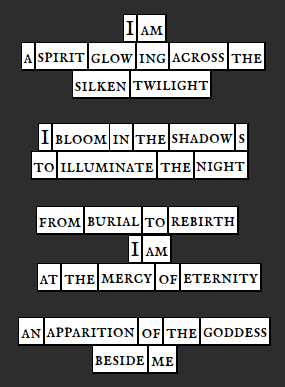 It was a lot of fun attempting to convey a spiritual concept filled with hope when the palette is a bunch of words intended to be spooky.

Sometimes operating under a constraint can bring forth one's inherent creativity. We try to find as many ways as we can to produce something meaningful with the tools provided, and in so doing, more tools are created. Sharing tools can help others to build instead of destroy.

Other times, having a definite boundary can actually inspire one to begin to create as they are no longer overwhelmed with options. Reduce to simplicty, then compound into complexity. But never lose sight of the constructive aim as you refine your process.

...Love through your limitations until they are no more.


---

Some music:
Trinity Roots - Little Things [Thanks fLaMEd!]


---
← Leap Into The Past • Head Into The Future →